The design versatility of slate roofing is renowned. Its architectural qualities range from color, constant or differing colors intermixed, to shapes of all kinds — half-round, jagged, diamond, square, staggered or not. Widely used for its decorative potential, the creative possibility of slate roofing is endless.
As the longest-lasting commercial roof type, slate roofs offer every building an upscale, yet authentic, appearance. You can select the exact slate pattern by choosing where your slate is sourced. Slate can be locally produced, from several quarries around the US, and imported from a number of countries around the world.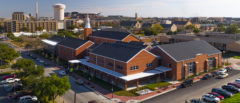 St. Mary's Catholic Center
A master plan for historic preservation and the combining of 3 roofing types to create roof assembly backed by a 20-year NDL warranty.
CertainTeed Silver Star Commercial Contractor
Crane Rigging Certifications
GAF Master Commercial Contractor
Owens Corning Preferred Contractor
Hunter Insulation Panel Qualified Contractor
$10,000,000+ General Liability Coverage
$1,000,000+ Roofing Project Experience
Workers' Compensation Coverage
Subscribe to the Schulte Roofing Quarterly
Stay up to date with Schulte Roofing's latest commercial projects.