Commercial tile roofs help create an authentic traditional character or feeling to any building. With hundreds of color matching possibilities, they can easily accent a range of design standards from historical to modern with a texture and pattern you can see from the ground.
Not only can commercial tile roofs meet any architectural style, but we also created them from different material types to achieve green standards, energy conservation, and fire/wind/impact resistance. Because clay and concrete tile is inherently porous and relies strongly upon impermeable underlayment for their success.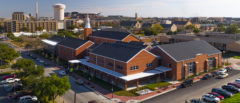 St. Mary's Catholic Center
A master plan for historic preservation and the combining of 3 roofing types to create roof assembly backed by a 20-year NDL warranty.
CertainTeed Silver Star Commercial Contractor
Crane Rigging Certifications
GAF Master Commercial Contractor
Owens Corning Preferred Contractor
Hunter Insulation Panel Qualified Contractor
$10,000,000+ General Liability Coverage
$1,000,000+ Roofing Project Experience
Workers' Compensation Coverage
Subscribe to the Schulte Roofing Quarterly
Stay up to date with Schulte Roofing's latest commercial projects.