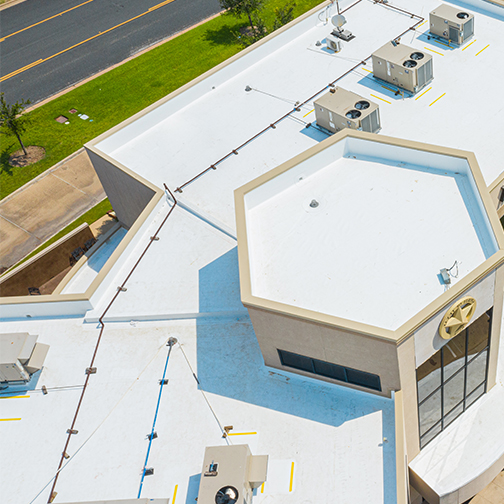 Commercial Roofing
Professional project management staff, safety personnel, on-site supervision, installers, & quality control management with decades of experience, ensuring your project is completed successfully, on time, on budget, every time.
Residential Roofing
Protect your home's value with roofing systems that are energy-efficient, impact-resistant, alae-resistant, and create dynamic curb appeal with warranties that last a lifetime.
Our Work
We design and install flat and low slope roofs, metal roofs, tile roofs and so much more. Come see the craftsmanship we put into our commercial and residential roofing projects.
About
Schulte Roofing® is an award-winning roofing company that provides both commercial roofing and residential roofing services to Bellville, Brenham, Bryan, College Station, Conroe, Montgomery, Navasota, The Woodlands, and the surrounding counties. Schulte Roofing is the Home of the BulletProof Roof Guarantee®, the industry's absolute best roof system, roof installations, roof warranty and a 100% Satisfaction Guarantee or your money back!
Since our beginning in 1994 we've grown from a one man, one truck roofer to a top 100 roofing company by industry-leading publications. Learn more about our our commitment to excellence and how it has propelled our success.
Jeff/Holly, We were very satisfied with the prompt response, the work of the roofers, and we're pleased with the outcome. The charcoal shingles with the white gutters and downspouts is a great improvement in the house's appearance. You all did...