Tile roofing is a choice that caters to the extremes of its aesthetic potential. With perhaps the longest history among roofing materials, it can be an authentic, traditional antique compliment that creates a feeling of character. Or it can just as easily accent a stoic modernist building. Color matching possibilities encourage seamless integration with every architectural purpose. Like slate, a textural quality you can feel even from the ground looking up turns an ordinary building into a place with a statement.
Like with residential tile applications, clay and concrete tile is inherently porous and strongly relies upon impermeable underlayment for its success. Expertise is required to fabricate accessory flashing and metal components. The better your assembly in whole, the better protected your building will be.
Clay Tile (S-Tile & Barrel Tile)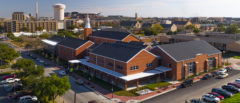 St. Mary's Catholic Center
background challenges solutions Background When you can confidently take on any project,...
The Stella Hotel
background challenges solutions Background With its sleek modern architecture and timeless finishes,...
Experience is more important than a piece of paper when it comes to tile, so we went that route! Call us to talk shop and find out for yourself if we know what we're doing.
GAF Master Commercial Contractor
CertainTeed Silver Star Commercial Contractor
Owens Corning Preferred Contractor
Underwriters Laboratories (UL® Certified)
Berridge Manufacturer & Installer
$1,000,000+ Roofing Project Experience
$10,000,000+ General Liability Coverage
Workers' Compensation Coverage
Subscribe to the Schulte Roofing Quarterly
Stay up to date with Schulte Roofing's latest commercial projects.