Schulte Roofing and GAF™ have partnered on an innovative 3D Roofing and Siding Visualizer. The new online application is the latest in new technology that the roofing industry has implemented to give homeowners and building managers a tool to visualize how their College Station roofing and siding will look before signing on the dotted line.
The new online tool will revolutionize the roofing industry by allowing users to take a photo of their own property, upload it, and test out thousands of different roofing and siding options. The new application will answer a vital question for homeowners; "How will my roof look after the work has been completed?"
The easy-to-use software gives the homeowner the ability to mix and match roofing material and color, siding material and color, and trim coloring. After uploading an image of the home, a homeowner can also save their own project when they run short on time and come back at their convenience. Also, once a homeowner has found a color and material combination that they like, they can print out a full spec sheet which will give the homeowners the exact material type that they would like to install.
Schulte Roofing President, David Schulte, states "The 3d visualizer creates a worry free roof selection process. It makes the customer confidant in choosing the right roof brand and color for their home."
Homeowners can easily print the spec sheet out and ask a roofing specialist for specialized information, specific roofing system components, and pricing. This gives the homeowner the opportunity to shop from home, leaving a lot of concerns over the expertise of their roofer, at their keyboard.
For homeowners on the go, there is also an additional app for iphone, ipad, and android devices. Homeowners only need to enter their zipcode to find the materials that are available in College Station roofing market. Materials are pre-filtered to ensure compatibility with local municipal building code. Be sure to check with a roofing specialist and the building code to ensure full compliance.
Homeowners are only 4 steps away from professional roofing advice.
1. Enter zip code to find available materials and color options.
2. Upload an image of a home or start with a pre-existing template home image.
3. Play around and manipulate the look and feel of your home.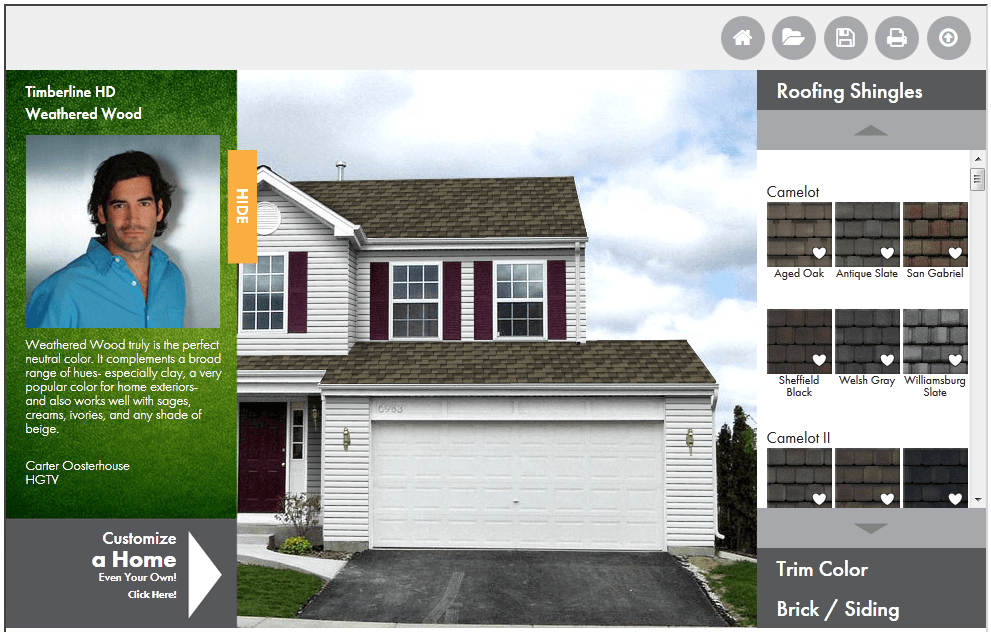 4. Save your project, come back often, and be sure to get professional help and answers on your schedule.
The new application that can be found on the Schulte Roofing website.