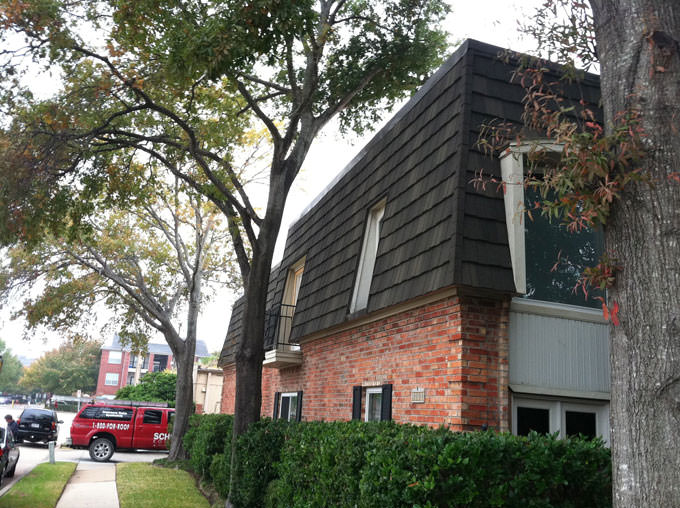 Many College Station homeowners often wonder whether or not their roofer will be around in case of a warranty issue.  The curiosity is not misplaced as roof warranties routinely extend from 10 years to 50years or more.  That may seem like a lot of time, but the design of the roofing system prevents the homeowner from having to replace their roof more than once in their life, assuming they live in the same home.
Manufacturers go to great lengths to ensure roofing materials last the life of their warranty.  Almost all roofing warranty issues are related to roofer installation and technique.  If roofing materials are not installed properly the manufacturer cannot control for unintended consequences from the deviation designed installation processes.
Heritage Vintage Laminated Asphalt Shingles
One manufacturer, TAMKO, the maker of the Heritage Vintage Shingles created a roofing system that comes with a 50 year warranty.  Their goal was to completely eliminate the headache and worry for the homeowner and changed the roofing model up a bit.  The Heritage Vintage Laminated Asphalt Shingles come with both a 100% warranty for manufacturer and labor (does not included tear off).
The shingles are made of a double fiberglass layer mat that is coated with weathering grade asphalt and ceramic granules for added UV protection.   They also have added high wind protection from an included self-sealing asphalt strip which holds the shingle to the roof deck, air tight.
The shingles are best used on roofs with an incline not less than 2 inches per foot.  There are very special instructions for slopes that fall between 2 and 4 inches per foot.  However, deviations outside of these slopes will cause these shingles to fail and that would most likely not be covered by the TAMKO warranty.
Shingle Attributes
Each shingles is approximately 17.5 inch x 40 inch with a 5 inch exposure.  They come as 72 per square and are listed with a Class A Fire rating and ASTM D3462 wind resistance.  The shingles are covered by a 50 year limited warranty, 20 year full warranty, and a 5 year limited transfer warranty.  TAMKO also covers the Heritage line with a 15 year limited wind warranty for winds over 100 mph and a 10 year algae cleaning warranty.  Additionally, the warranty coverage is the same for all structure or building types.  If you are looking for impact resistance then the Heritage IR line would be best as it is rated as a Class 4 Impact Resistance.
For more information and demos of the Heritage Asphalt Shingle line, contact Schulte Roofing today.  Schulte Roofing has been serving College Station, TX for the last 19 years with professional roofing services that work for any budget.