Schulte Roofing, the leading family owned and operated College Station roofer, is announcing its 20th anniversary this year. Founded in Alvin, TX in 1994 by President David Schulte, the business has grown and prospered, satisfying thousands of customers and receiving numerous awards and accolades. Schulte Roofing maintains an A+ rating with the Better Business Bureau, was voted Best Roofing Contractor in the Brazos Valley an impressive 5 years in a row, and is considered one of America's Top 150 Roofing Contractors by the National Roofing Contractor's Association. In addition, as of 2013 the business also holds a Guinness World Record for the largest gingerbread house, a project that united the community and brought the greater Brazos Valley area into the national spotlight.
When asked about the success of his company, David Schulte modestly praised his employees and outlined the mission statement that has grown his business for 20 years, "There are lots of reasons for our success; honesty, sincerity, hard work, and integrity to name a few. We have our issues, like many do, but why do we sustain? The answer is the same defining reason a customer should choose to do business with us… Commitment! When our guys sell a job or do a job we must have all of those previous things — honesty, sincerity, hard work, and integrity — but most of all we must have the ability to fulfill the customer's needs after the sale. The commitment 'should you ever have a problem, we'll be here for you' I live by that."
It's that commitment to excellence that guided the #1 roofer in College Station from his humble beginnings to the success that his business enjoys today, and it's that commitment to excellence that lead him to institute the best warranty in the business, Schulte Roofing's Bulletproof Roof® Guarantee. Early on, David saw that his competitor's guarantees were "full of holes," referring to "… every reason a product or service provider gives for not honoring their warranty or guaranty." David Schulte set out to ensure that his company would accept the responsibility for each home and business that they serviced and ensure complete satisfaction, regardless of excuses from the materials manufacturer.
In fact, Schulte Roofing's commitment to excellence extends even beyond their Bulletproof Roof® Guarantee. Each new roof that they install has a transferable workmanship warranty lasting 25 years or longer. If their work is defective in any way, they will repair any resulting damage and make things right with their customers, even if you sell your home. In addition, each customer is automatically enrolled into Schulte Roofing's Overhead Care Club maintenance program. The experienced professionals at Schulte go beyond simply warrantying their materials and labor, they will maintain each new roof that they install.
The Overhead Care Club delivers an annual 17-point roof and attic check-up, skylight cleaning, debris removal, gutter cleaning, and priority attention and services in case of an emergency. In addition to all of that, Schulte Roofing offers discounts on repairs and diagnostic fees, along with next-day appointment services. The wind, rain, and heat all take their toll on a new roof, and while most of Schulte's competitors are happy to leave their customers to the elements, Schulte Roofing values every customer and ensures their satisfaction and gives priority emergency service to those enrolled in the program.
For the past 20 years this College Station roofer has been satisfying customers and local businesses in the Brazos Valley because of David Schulte's commitment to quality, but also his honesty and personal integrity. Recently, he spoke directly of his competitors and highlights the ways that his company outshines them, "Sales organizations are notorious for it… Say what you have to, get the sale, that's all that matters. They will sell at any cost. They blow wind up your skirt, sugar coat it, whatever it takes. And they lack the integrity to just be sincere and honest. In other words, most companies shine when they are giving you their opening performance. The opening performance comes in many ways. It could be the sales presentation, the great website, what they say and promise, or just the "great price," he said, "By not giving you realistic expectations, not being truthful, and selling at any cost, they set the consumer and themselves up for future disappointment and failure."
Schulte Roofing sets themselves apart from those unscrupulous businesses by ensuring not only the quality of their work, but the quality of their employees. It's this commitment to excellence that has made Schulte Roofing into the top-rated, award-winning College Station roofer that it is today. From the top down, all of the employees deserve credit for being the best in the industry, and their 20 year track record proves it.
With a strong commitment to excellence, a talented and experienced workforce, the strong and principled leadership of President David Schulte, and the best warranty in the business, it's no wonder that Schulte Roofing has prospered for so long. But what's in store for the future? David himself summed it up, "I believe our mission statement says it best. We want to provide roofing installations that exceed manufacturer specifications and provide competitive pricing for our customers while not sacrificing quality in order to ensure our slogan 'Committed to Excellence.' We want to maintain profitability to underwrite our company's growth and stability in our marketplace for today and in the future for both the customer and our employees. I pray God gives all of us here the opportunity to shine on for another 20 years!"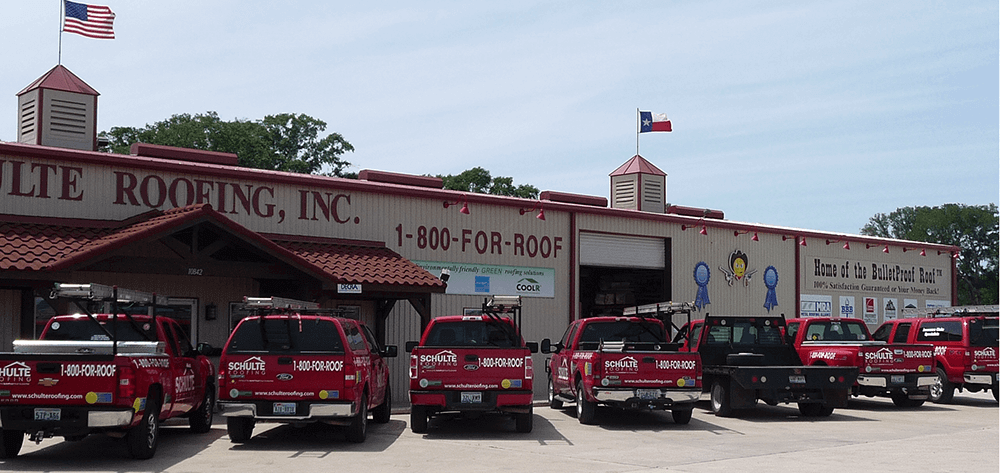 If you, your business, or your friends are family are in need of roofing repairs or estimates please don't hesitate to contact Schulte Roofing, College Station's best roofing contractor, at 1-800-FOR-ROOF or on the web at schulteroofing.wpengine.com today. Trust the award-winning professionals for all of your needs, small or large, and get the 25 year Bulletproof Roof warranty. If you're looking for a College Station roofer there's no business more reliable or trustworthy than Schulte Roofing Inc. See for yourself why they're the top-rated roofing contractor in Brazos Valley for the past 20 years.