For over 20 years, Schulte Roofing has worked tooth and nail to achieve the position of the best roofing company in the Bryan-College Station area. This is a position that just wouldn't be possible without the continued effort and dedication of the entire team.
This hard work from the entire team doesn't go unnoticed, to show a little appreciation and offer a few well-deserved days off, Schulte Roofing puts on several events and outings a year. These can include Christmas parties and other holidays, crawfish boils, skeet shooting, and hunting and fishing trips.
There's little doubt that 2020 may not be a top choice when it comes to favorite years, as it certainly brought a unique range of challenges. Nevertheless, Schulte Roofing employees delivered their absolute best, and so we wanted to do something a little special as well. We searched throughout Brazos Valley for local companies and services to help us prepare an unforgettable event for this year, based on the idea of reinvesting in the community where we work. We found our liaison to the seas and told our teammates and partners to pack their bags and fishing poles; we were taking the bus across two states to the Chandeleur Islands off the coast of Mississippi, trying our hand at fishing in the beautiful blue waters of the Gulf.
Getting to the Chandeleur Islands
Schulte Roofing has been going to the Chandeleur Islands for some incredible fishing and good times since 2004.
The islands, shaped like a crescent moon and located about 35 miles south of the Mississippi coast and 75 miles east of New Orleans, were remnants of the St. Bernard delta complex created by the Mississippi River, which formed more than 4,000 years ago. Nowadays, they are part of the Breton National Wildlife Refuge and widely known for their exceptional birdwatching and coastal water fishing. They are rich with vegetated dunes, tidal marsh, and seagrass, making them perfect ecosystems for all sorts of life.
This was our destination: incredible panoramic views of the Gulf, long islands with white sandy beaches, and some of the best spots for catching speckled trout, redfish, and much more.
With the help of the local company planning our trip, we were able to organize our three-night, four-day fishing trip and hit the road on August 2nd. After a full day of driving, the team arrived in New Orleans but still had a little further to go. We continued east for a few more hours, into Mississippi where we would charter our boat to get on the water.
In total, we chartered two boats with living quarters (including the 'VI', a well-known boat on these waters there) and stocked up on lures, bait, and other supplies. Being avid fishermen with a little experience in the area, we expected the fishing to be optimal around the islands, and we were in for a pleasant surprise.
Too Much Fish to Catch
Right away, it was clear to everyone that being out on the water was a breath of fresh air. The weather was sunny without a cloud in the sky, and it was warm enough to sport a short-sleeve shirt both on land and out on the water. Generally, the winds can blow intensely and the waves can be difficult in the area, but we timed our trip to the islands just right. On the day of our departure, the wind was light and the water was calm, and we enjoyed a smooth and comfortable journey the entire way.
It was also evident the fish were going to be biting right from the get-go. It was the frenzy we had seen before on previous trips, and it was exactly what we had hoped for. And just like our approach to quality roofing, we strive to be good at fishing. There was bite after bite as we moved from one prime spot to another.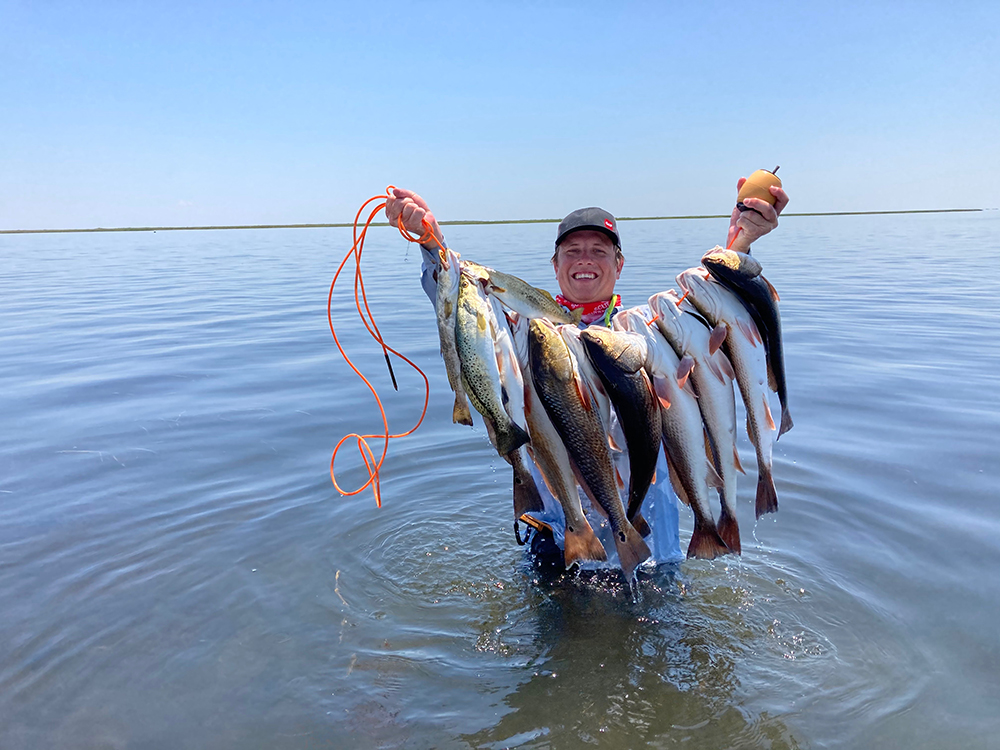 We caught large bull redfish that were over 30 inches long, as well as many of the smaller ones that make for better table fare. In addition to redfish, we caught jack crevalle (also known as 'common jack'), humongous black drum, and heaps of speckled trout. It wouldn't take long to start filling up our stringers with a colorful variety of fish. We also caught a variety of other fish that we did not bring home, including spanish mackerel, ladyfish (also known as skipjack and poor man's tarpon), bluefish and the infamous gafftop and hardhead catfish.
"We caught limits of fish," Schulte Roofing President Josh Schulte said about the frenzy. "We could not legally keep any more fish. We caught hundreds. The boat captains said they had not seen fish caught like that in a long time."
Sharks were also abundant in the waters. Over the course of the trip, we encountered many of them and had to chase them away constantly, as they consumed our catch or our bait. For instance, we were casting off the shallow waters close to the islands, and one of the redfish we caught had a huge shark bite right out of its side.
At the end of the day, worn out but feeling pretty happy about the good luck we had out on the waters, we enjoyed a big meal together on the VI and took the time to kick back, play a few games of dominoes, and enjoy the evening out on the Gulf.
When it was time to head back to shore and start the bus trip home, we had literally reached the legal limit of fish we could catch, and the entire team couldn't have asked for a better fishing experience.
Thanks to the Schulte Roofing Team
This year's fishing trip to the Chandeleur Islands was just a small token of gratitude for all the hard work, effort, and dedication that Schulte Roofing employees put into their profession. It's this same dedication that has allowed our company to grow deep roots within the communities we work, and it's the reason why Bryan-College Station homes and businesses call our red trucks when they need a new roof or roof repair of any kind.
While it'll be hard to repeat this fishing trip, considering the sheer amount of fish we caught, we can only strive to organize better events and more enjoyable company outings in the future. Schulte Roofing is immensely proud of its employees and everything they do. We believe in our people. And we believe that when armed with the tools of success, and a recognition of value, our employees through their careers will lead Schulte Roofing into success as well.
Here's to another great year!